WHALE
WHLE-LS1 High Performance Single Board Computer
NXP Layerscape® LS1 series SoC
based on Arm® Cortex®-A53 or Cortex®-A72
SmartNIC features and over 45,0000 CoreMark® performance
Send a request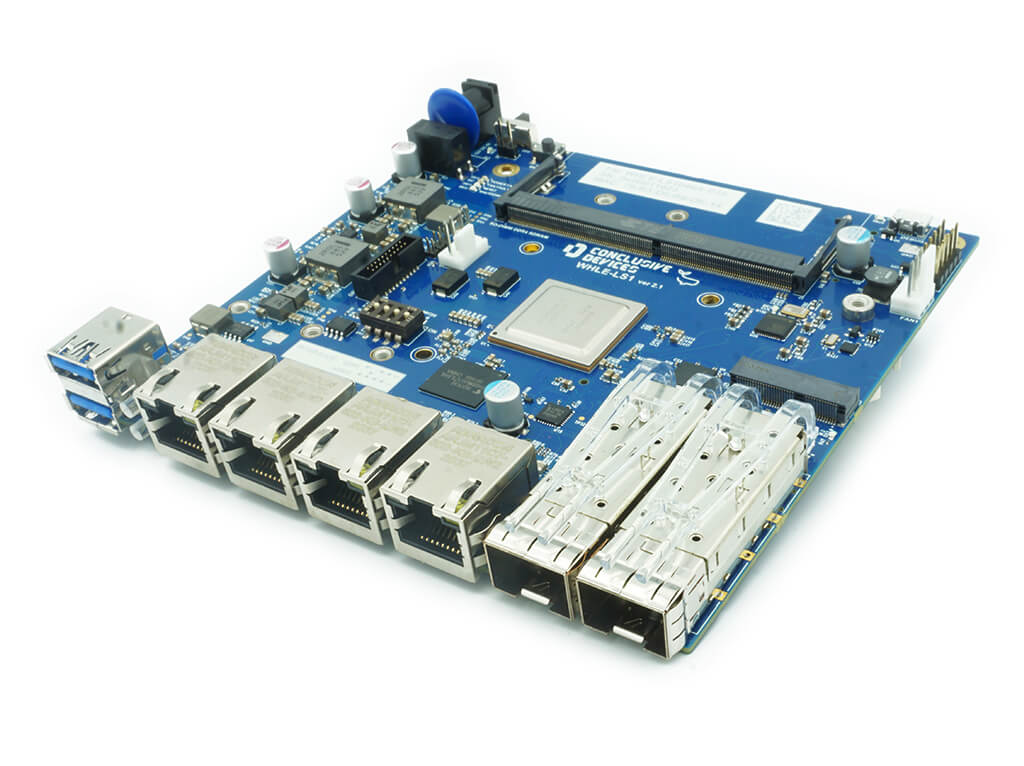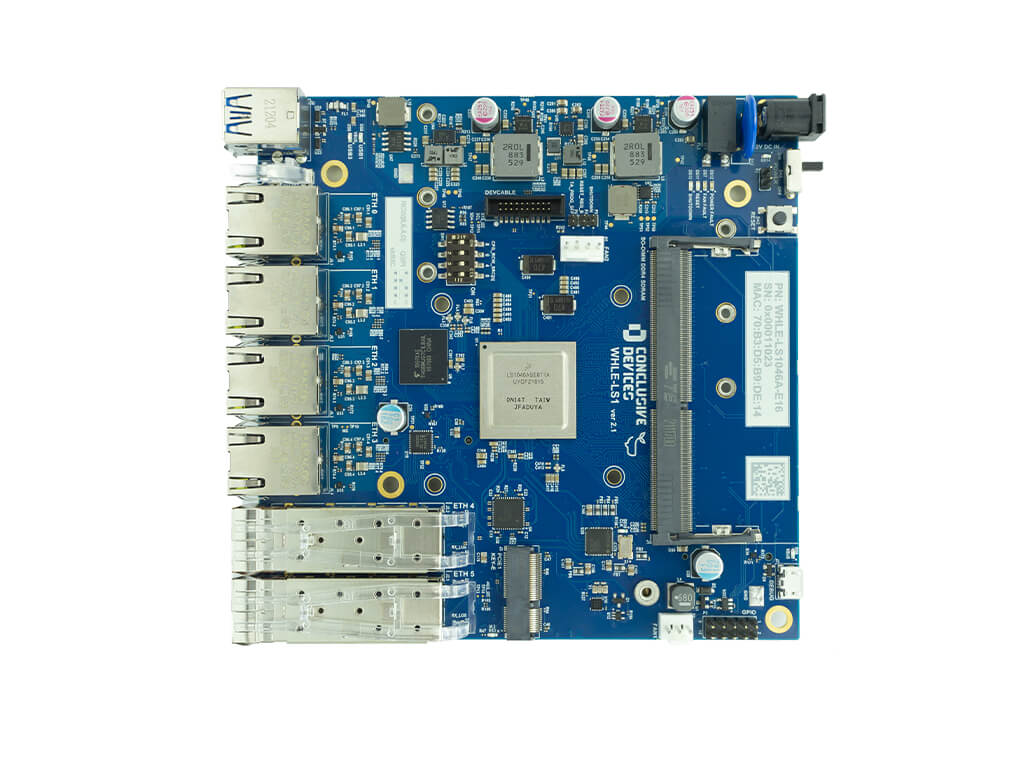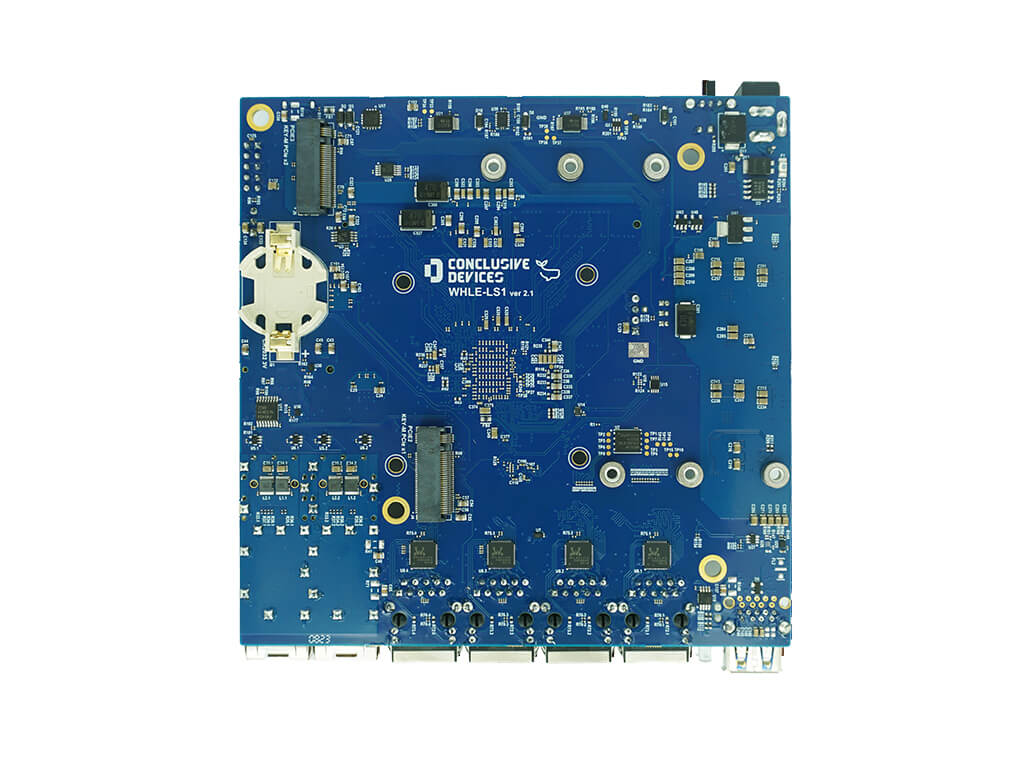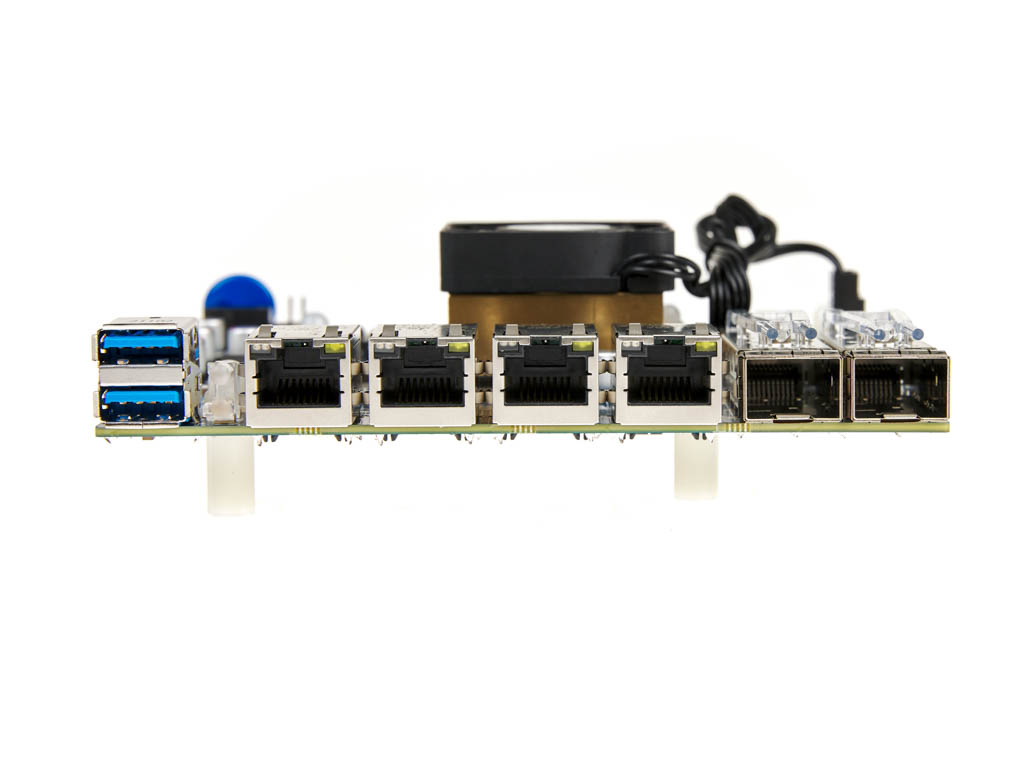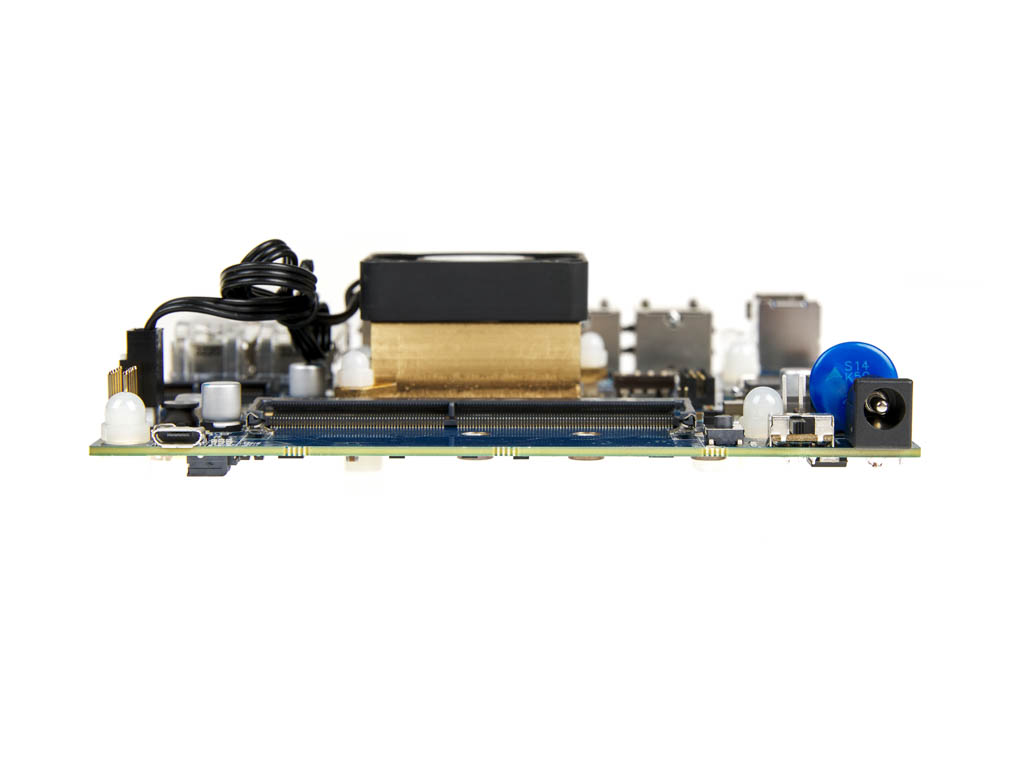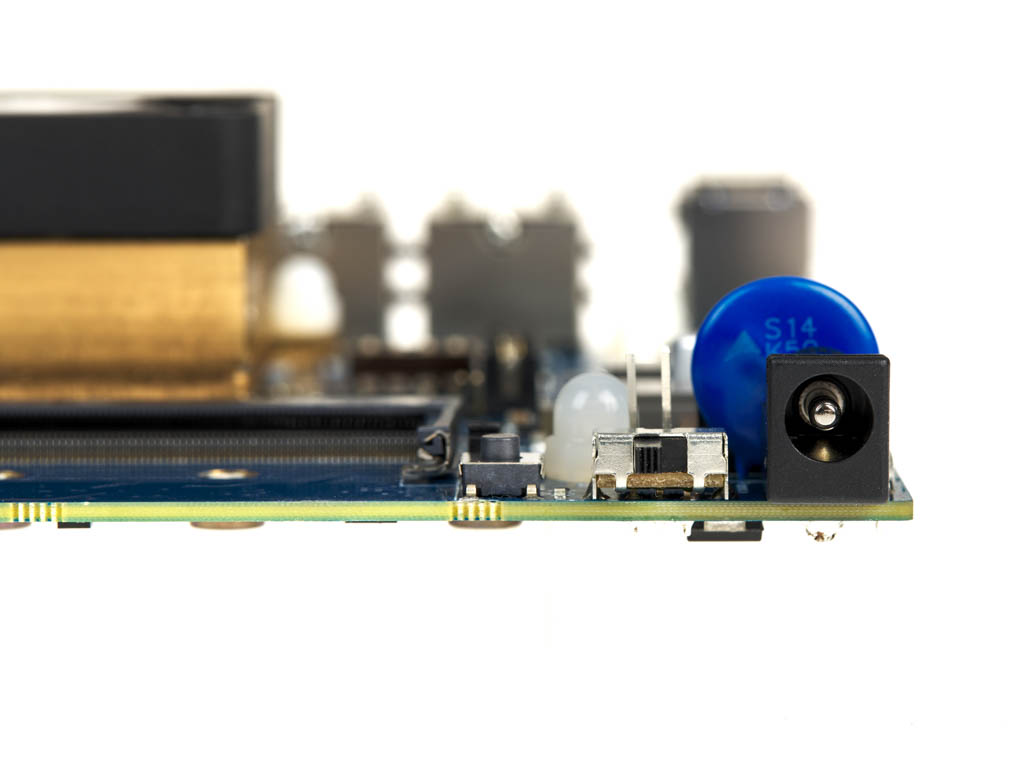 WHLE-LS1
High Performance
Single Board Computer
NXP Layerscape® processor
up to 1.8 GHz
up to 8 cores
Packet processing engine
1x 64-bit DDR4 up to 2.1GT/s ECC support
4x 1 Gigabit Ethernet
3x PCIe M.2
2x 10 Gbit/s SFP+
up to 64 GB eMMC
2x USB 3.0
High performance Single Board Computer with extensive connectivity features.
Small form factor, perfect for custom routers and firewalls
Featuring NXP Layerscape® processors based on Arm® Cortex®-A53 and Cortex®-A72.
Hardware network traffic processing engine
Easy to expand thanks to PCIe M.2 connectors
Utilize the full power of WHLE-LS1 Layerscape® processor
Processor with up to 8 cores, up to 1.8 GHz per core. Capable of real-time computation. Comes in two variants - the powerful LS1026/46 with DPAA, or the energy efficient LS1048/88 with DPAA2.
Capable of delivering over 45,000 CoreMark® with SmartNIC features.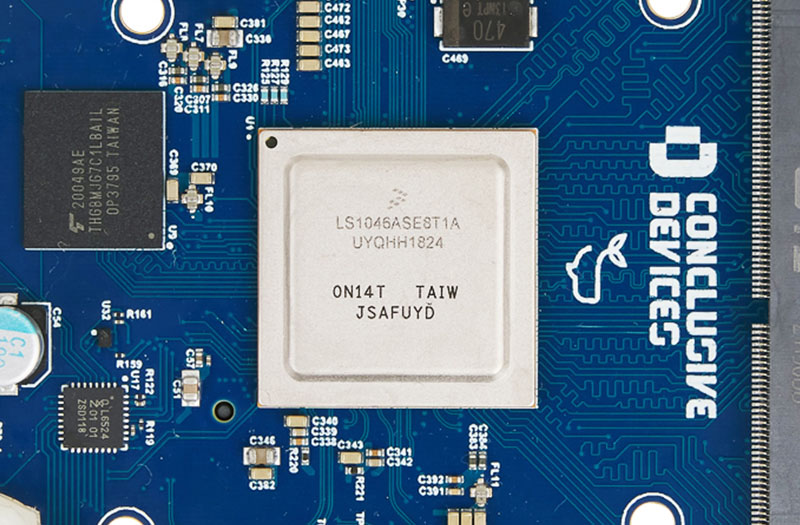 WHLE-LS1 - Specification
SoC
NXP Layerscape® SoC variants:

LS1026, 2 core Arm® Cortex®-A72 1.8 GHz CPU with DPAA
LS1046, 4 core Arm® Cortex®-A72 1.8 GHz CPU with DPAA
LS1048, 4 core Arm® Cortex®-A53 1.4 GHz CPU with DPAA2
LS1088, 8 core Arm® Cortex®-A53 1.6 GHz CPU with DPAA2

Memory
1x SO-DIMM socket supporting DDR4 SDRAM with ECC (up to 2100 MT/s)
Ethernet

4x 1 Gbit/s RJ45
2x 10 Gbit/s SFP+

Mass storage

4-64GB eMMC
16 MB QSPI NOR Flash
8 KB EEPROM

PCIe

M.2 Key-M 2280 D4 PCIe 3.0 x2 NVMe
M.2 Key-M 2280 D5 PCIe 3.0 x1 NVMe
M.2 Key-E 2230 D5 PCIe 3.0 x1 WiFi/BT with USB 2.0, I2C, UART

USB

1x or 2x USB A 3.0 (host mode)

Debug

Conclusive Developer Cable connector providing access to:
- System UART
- JTAG port
- System I2C bus

1x USB Micro-B 2.0 console port (System UART)

Software support

Linux 4.14 to 5.16 and newer
Ubuntu 20.04 LTS
Secure Boot
UEFI EDK2
U-Boot 2023.07
Linux 4.14-5.16 (Buildroot and Yocto)
FreeBSD 13 (on request)

Additional features

RTC with CR2032 back-up battery
Reset button
Power switch
Boot source selector DIP switch
2x two-color status LED
Two channel fan controller with 3 pin and 4 pin fan connectors
6x GPIO (3.3V)
External I2C (3.3 V)

Power supply
12 V DC, 7 A, 2.5 x 5.5 mm barrel connector
Dimensions
130 x 130 mm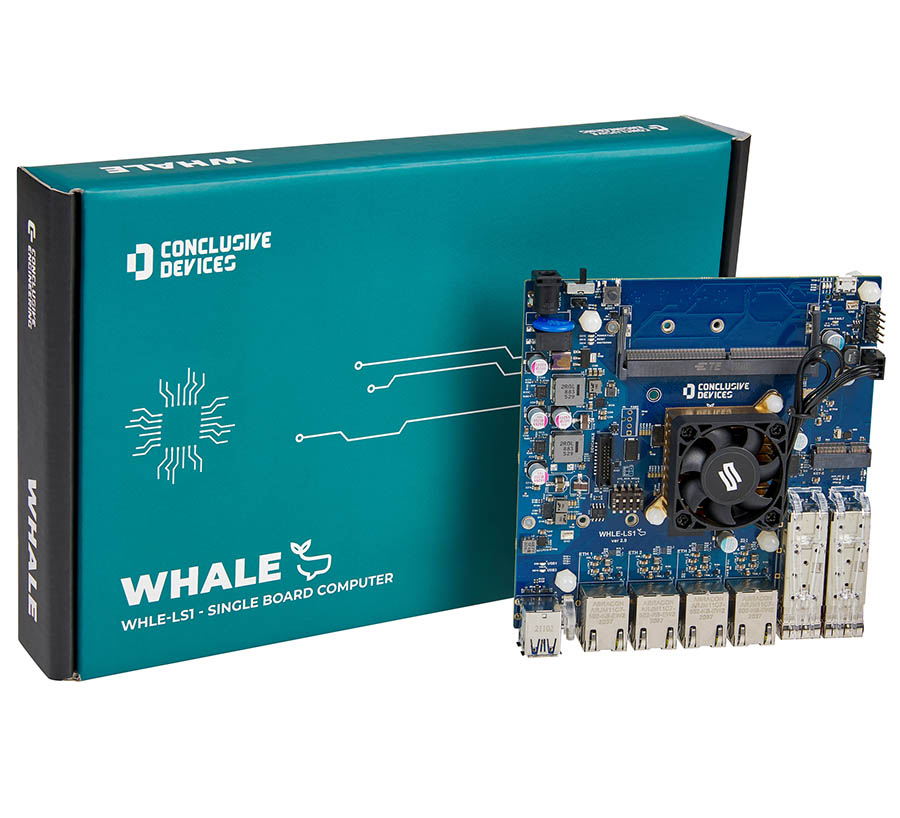 Whale is applicable for
Embedded systems with advanced I/O needs
Power-constrained networking and Packet Analysis
Wired and Wireless Routing
Virtualized Networks
Industrial applications
Smart Factory
Automotive and Machine Control
Edge Compute nodes
WHLE-LS1 - Send a request
Fill out the details below and one of our representatives will contact you shortly.
Inquiry about custom board